What Window Treatments To Choose For Your Indianapolis Custom-built Home
If you have decided to build a custom home in Indianapolis, you strive to find the perfect finishing touches, and that includes the window treatments. It might come as no surprise that plantation shutters top the list of window treatments for custom homes in Indianapolis. Their versatility and style complement interiors of all types and give you complete command over natural light. With this in mind you are able to quickly fashion a welcoming environment and accentuate your new home's best features.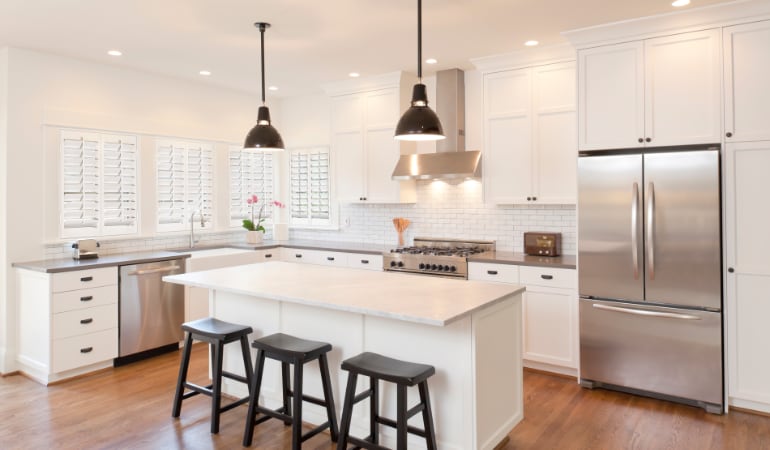 How Do Plantation Shutters Elevate a Custom Home?
If your goal is to draw attention to your custom home, think about window treatments that people in Indianapolis use to add to their home's style. Plantation shutters work wonderfully with all home designs. They stand out and garner attention from anyone who may be more familiar with outdated drapes and metal blinds. Their simple but elegant design requires no extra dressing to create a stunning appearance and make a great first impression on visitors.
Plantation shutters make the perfect finishing touch for a custom home. Their crisp lines and versatile color choices work well with every decor, so you can advise the home builder to put them in any room without worrying about how they will look in your furnished home.
Plantation shutters can also be designed to fit both standard windows and windows with specialty shapes, so you are able to install them for windows of any type and prevent the extra work of implementing numerous window treatment options. That's one less detail to figure out as you figure out your remaining home finishes!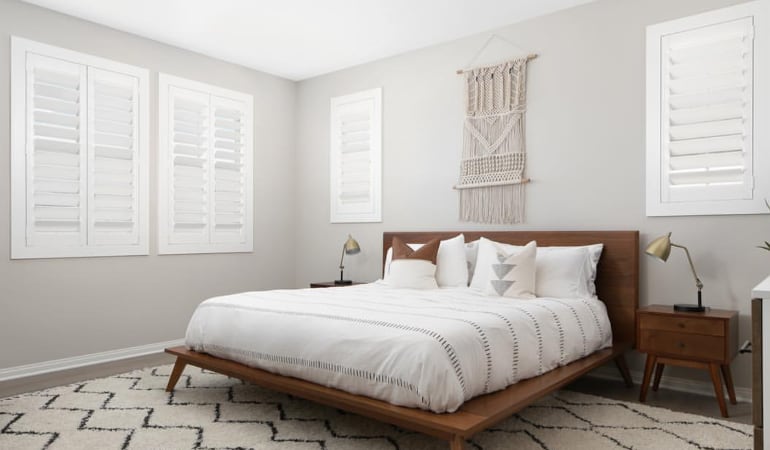 How Do Plantation Shutters Make It Easy To Filter Natural Light?
Everyone loves the look of a sun-splashed home. While you'll no doubt choose impressive light fixtures to illuminate your custom home, the sun's rays have distinctive properties that give an area a larger appearance or boost its overall character.
Unfortunately, the sun's light is constantly changing. As the day goes on, the level of sunshine streaming into your custom home changes, and you will need to adjust your window coverings to filter the light accordingly. When searching for window treatments for custom homes in Indianapolis, people show a preference for faux wood Polywood® and classic wood plantation shutters that let them manage the amount of natural light a space gets.
You can use the tilting mechanism to change the angle of the shutter louvers at times when windows receive direct sunlight to provide a space a more comfortable feel and increase the opening to enhance the brightness when the sun has moved positions. You can even swing back the shutters for complete sunshine to produce an open air appearance and close them again for a more intimate feel.
Altering the slat angles also gives you the chance to shift the sun's rays. By tilting the shutter louvers up or down, you can cast light all areas to make your space seem bigger. You are able to shift glaring light away from your visitors' view and surfaces where reflection occurs without lowering the louvers and completely losing the light. With a single touch, you can manage the quantity and the direction of sunlight that shines in any room for everyone's comfort.
Get The Top Window Treatments For Your Indianapolis Custom Home
Show your new home in its best light with the endless appeal of plantation shutters by Sunburst Shutters. We are your source for elegant window treatments that Indianapolis property owners want for their custom-built homes. Give us a call at 317-558-9066 or fill out the form below to schedule a free in-home design consultation.