Custom Blinds Indianapolis
Sunburst's blinds for Indianapolis are top quality in terms of construction and materials. They outshine standard blinds when looking at appeal and functionality. Select from natural wood blinds or faux wood blinds for window treatments that blend with your home and decor.
Custom Window Blinds For Your Property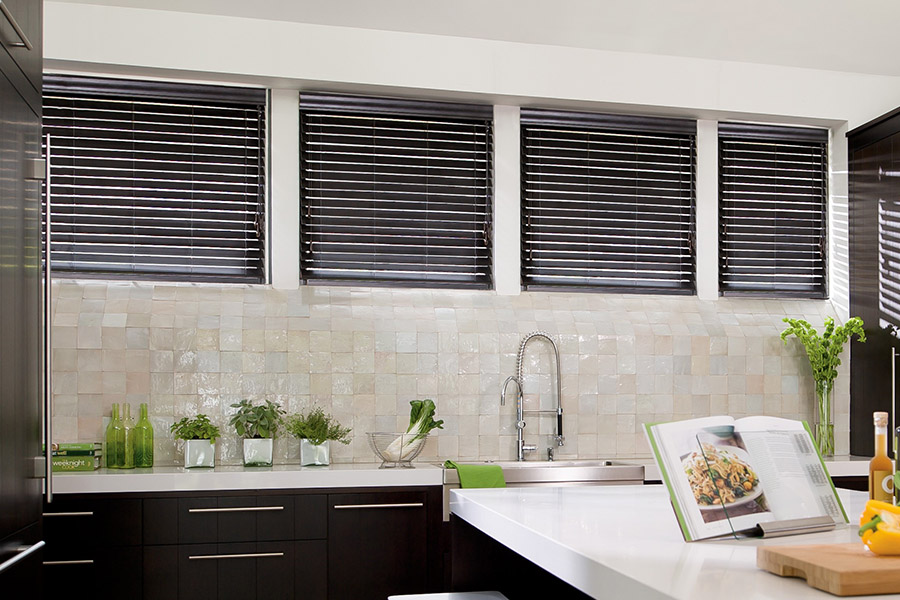 While the vast majority of people have come across traditional aluminum or vinyl blinds, these are no comparison to the premium faux wood and hardwood blinds Sunburst offers you. Their sturdy slats and strong cords function smoothly and last longer than other kinds of blinds. We also give you the choice of several appealing colors and other customizable features to ensure your blinds have the appearance and function you desire.
Our blinds in Indianapolis give you incredible adaptability in taking control of natural light and privacy in your interior. Their substantial slats stops sunglare and the ability to see into your property when drawn together. Then you can rotate the slats for a bit of light or move them up for an unfettered view. Whatever style of blind you choose, the window treatment specialists at Sunburst will ensure your selection fulfills your specific goals.
Reasons To Choose Blinds in Indianapolis
The main concern with the majority of window blinds is the speed in which they damage, get tangled, or start sticking during normal usage. Sunburst's wood and faux wood blinds last considerably longer than weaker products. Their thick slats will not bend or break and working parts don't fray or wear down quickly to provide years of effortless function. Sunburst's faux wood blinds will even hold up for years on end in humid spaces because of their water-resistant composite wood construction.
Sunburst's blinds work more reliably than inferior blinds too. Our exclusive headrail system is specially engineered for ease of operation, and the robust slats of hardwood or wood synthetic provide phenomenal privacy and inhibit most outside light. Pick from several easy-to-use modes of operation for when you need to switch between varying levels of darkness and light. We also provide unique edge routing without the ladder gaps you will see on numerous blinds that allow people to see into your home.
One of the greatest benefits of blinds for Indianapolis residents is their allure. They mix the well-known look of blinds with the distinction of natural wood or faux wood for a look of sophistication. Select from a multitude of colors to blend with your interior design and even add a valance for a special touch. Or use them as nice short-term window treatments until you get custom louvered shutters. No other blinds deliver easy function and stunning appeal to the same degree that faux wood and real wood blinds from Sunburst Shutters do!
Faux Wood Blinds For Unrivaled Style and Durability In A Window Blind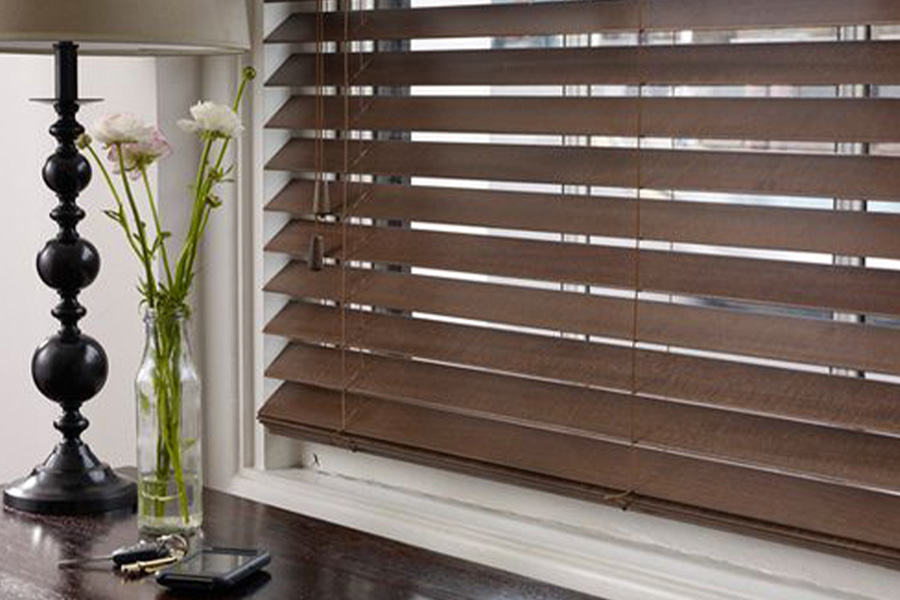 Manufactured for the longevity and elegance you expect from Sunburst.
Our faux wood blinds
stay in use longer and bring more style to your home than other options. Paired with a first-class headrail system, their well-built slats turn effortlessly as you open them for sunlight or secure them for shade and privacy. Their slats are also resistant to water, making our faux wood blinds perfect for high-moisture room that destroy other window coverings.
Sunburst's faux wood blinds also deliver incredible grace and value to your interior. Unlike inferior options, they have opulent appearance due to their high-grade materials and construction. They have a refined appearance like louvered shutters while avoiding the higher cost. Pick from an array of popular colors and a flat or wood grain finish to coordinate with your home's design. Then ask Sunburst Shutters Indianapolis about additional custom options to create the specific feel you want for your faux wood blinds.
Wood Blinds Provide Light Control, Privacy, And Appeal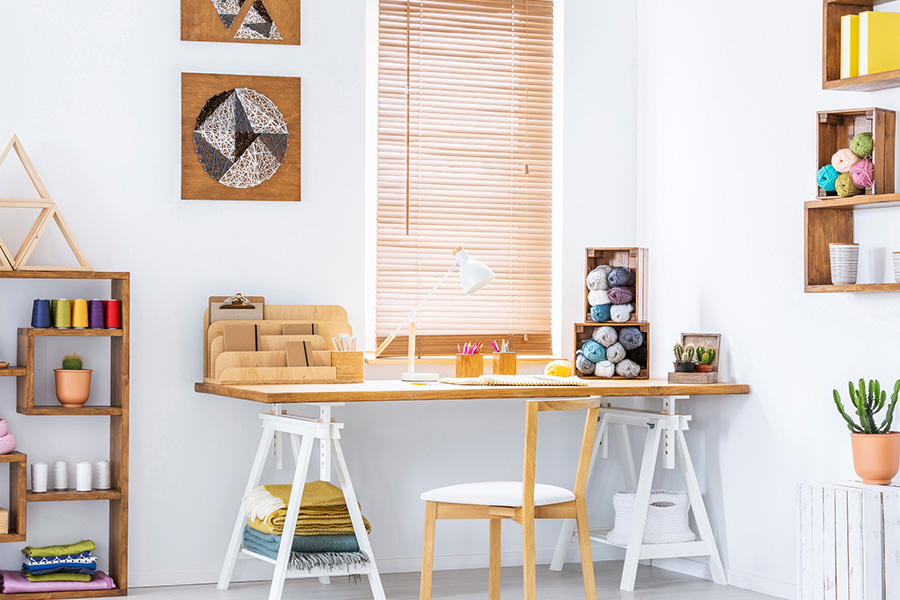 With the timeless appeal of real wood combined with fine workmanship, it's no wonder
our wood blinds
are sought out by Indianapolis residents who want beautiful, durable window treatments. Constructed with furniture-grade wood, they look stylish on every window and resist usual wear and tear dramatically better than common metal blinds.
Our wood blinds come in 24 dazzling finishes, every one with a UV protectant to maintain their enticing color for years to come. Install them in any space where you wish to have a distinctive window covering that gives you the ability to simply switch between different levels of natural light and privacy.
Vertical Blinds: Enhanced Conventional Blinds For Sliding Doors And Windows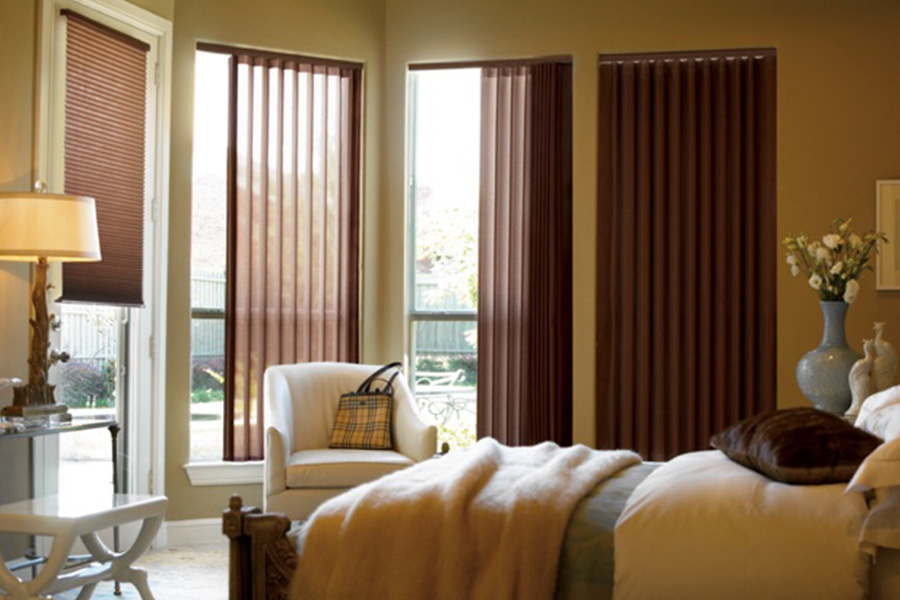 Vertical blinds have long been an ever-present window treatment for sliding patio doors or similarly sizeable windows. Although vertical blinds are typically thought of as inferior, quality vertical blinds from Sunburst are a better choice than your common products. Choose from vinyl or fabric materials in your favorite of the numerous color possibilities to bring a pleasing feature to your patio door or tall window.
Commonly Asked Questions About Blinds In Indianapolis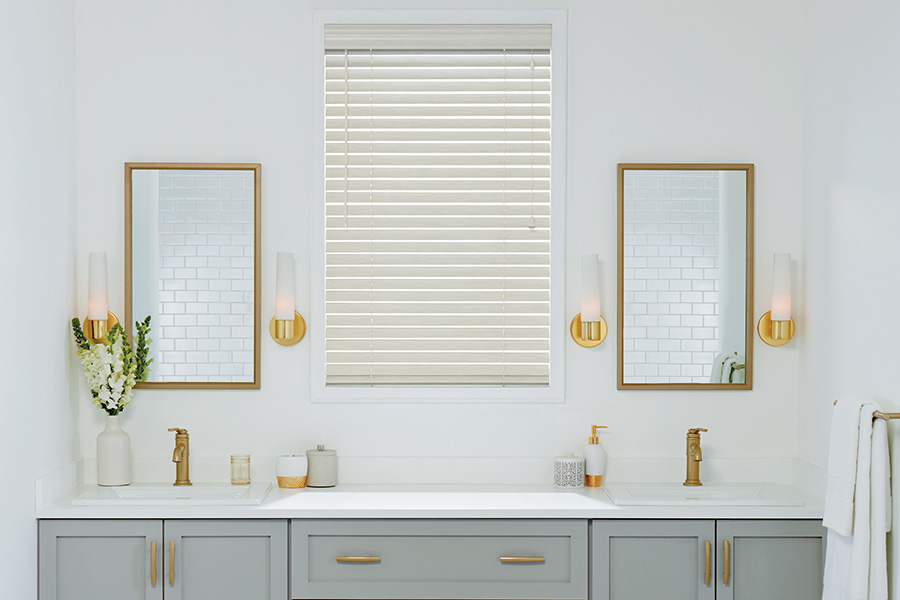 How Are Sunburst's Blinds Different From Other Options?
Vinyl and aluminum blinds have inherent flaws that cause them to bend or break too soon. These common blinds typically have cheap mechanical parts that also break down and malfunction during their limited lifetime. In contrast, blinds from Sunburst Shutters & Window Fashions have inherently strong materials like hardwood and a solid wood substitute that outlasts other options. They won't bend or snap when your pet slams into them, or when a little one grasps them. They also work smoothly over the course of their service life, so you can avoid the annoyance of your blinds getting stuck as you make an effort to use them.
Our blinds are better looking too. Robust wood and faux wood blinds give the impression of upscale products thanks to their extraordinary construction and dazzling colors. We also take it a step further by offering decorative valances, twill tapes, and round corners per your unique preferences. In a market where you find cheap blinds nearly everywhere you look, Sunburst's blinds stand out for their craftsmanship and visual appeal.
How Do Blinds Operate?
Our blinds work similar to most other blinds. When you close your blinds, a stack of slats drops down over your window to conceal it. You are able to manipulate the slats to rotate toward you if you would like a see outside or shut them to impede the view and exterior light. If you decide to open your blinds, the slats move upwards and gather smartly next to the headrail installed above your window or inside your window opening.
Sunburst has differing lift systems for your blinds in Indianapolis. Common cord-attached blinds have cords you use to reposition the slats, while wand tilt blinds operate with the twist of a rod. We also offer cordless lift blinds that you pull down and push up via a bottom rail.
Can I Hang Blinds In Bathrooms?
Not all coverings can hold up to hot and humid kitchens and baths. The excessive heat and wetness will cause materials to contract and expand, which leads to deforming and breaking. Wet environments might even cause mold to grow on permeable window coverings.
If you want window blinds in higher humidity rooms, your best option is our faux wood blinds. Built from a resilient composite material, the slats on faux-wood blinds are impervious water and the harm it causes. You will admire their beauty in bathrooms and kitchens for years to come.
Are Blinds The Same As Interior Shutters?
Simply: No. While numerous residents make reference to any window product as a "blind", interior shutters (also termed plantation shutters) are a significant upgrade over blinds. Shutters are longer lasting, block out more exterior light and temperature, feature a frame surrounding the window to make them more of a lasting part of your home, and have more comprehensive warranties.
If you're attempting to pick between blinds and shutters in Indianapolis, Sunburst Shutters Indianapolis is happy to assist in assessing your specific goals and determine the right product for your windows. However, you should know that Sunburst's faux-wood blinds are a smart and budget-friendly choice when you are looking for a quality treatment to conceal your windows and add style to your home.
Your Indianapolis Blinds Buyer's Guide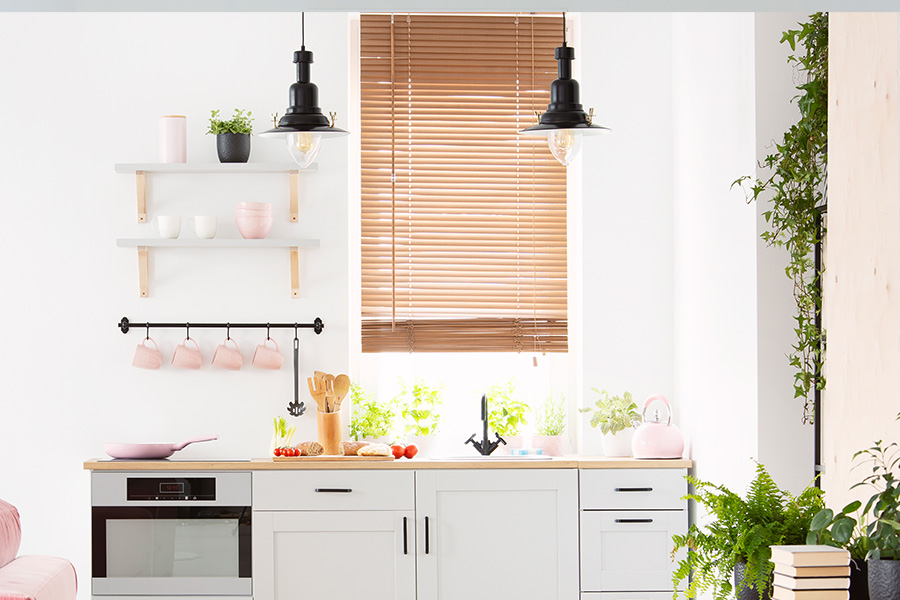 The Process For Purchasing Our Window Blinds
Begin the process for buying blinds with a helpful, complimentary in-home consultation. You'll converse with one of our window treatment experts about how you want your blinds to operate and look. Then our expert will present some samples of our blind offerings and alternative window treatments including our plantation shutters, over the windows you wish to cover so you can look at a real demonstration of the finished product. They'll also discuss potential add-ons and take note of your choices.
After that is done, we precisely measure all of your windows. Even if you don't order blinds for each window now, we'll hold on to our records to use on future orders. With your window's measurements and the latest software tools, we design your custom blinds.
Once experienced technician construct your new blinds, a crew is sent to install the window treatments with exactness and attention to detail. Before leaving, they test your blinds to make certain everything operates properly and looks how you want. All that's left for you to do is love your room enhancing blinds for many years to come!
Personalize Your Blinds Specially For Your Home
We couldn't announce our blinds as the best if we didn't offer multiple ways to personalize that lead to one-of-a-kind blinds specifically made for your windows and decor. Our objective at Sunburst is to always provide you with window coverings that you enjoy using and looking at. Regardless of your preferences or desires, we are able to design the perfect custom blinds for your home.
Colors And Finishes
Our faux wood blinds can be found in five contemporary white or near-white hues and several paints in wood colors.
You'll discover our wood blinds in 24 designer finishes to either match with or create an exciting point of contrast with the current wood details within your residence. Finally, ask about color choices for tassels, ladders, and pull cords to synchronize your blind's appearance.
Are you wondering about vertical blinds? Sunburst offers vertical blinds in a variety of materials with dozens colors to choose from!
Faux Wood Colors
Wood Blinds Colors
Operating Features
Sunburst's blinds are offered with different operating tools to ensure they work their best for you. Select from standard cord tilt, simple wand tilt, corded lift, or child-friendly cordless lift options. Then you might contemplate supplementing with hold-down brackets to be certain your blinds don't shift and allow unwanted light in around the perimeter.
Wood Blind Louver Width

Available in 2 inch and 2-½ inch louvers. Some options only available in specific sizes.

Faux Wood - 5 white & near-white tones, 5 wood-colored stains available.

Wood - 24 exclusive designer finishes

*Color coordination available for wands/cords and tassels.

Operating Options

Cord tilt packaged standard. Wand tilt options are available.

Routeless blinds are also available.

Valances

3 ¼ inch Royal Crown valances are offered.




Cut-outs

Notch or Edge cut-outs are available.

Warranties


Faux Wood & Wood Blinds are backed by a limited warranty that covers any manufacturing defects (i.e. a flaw in the product design, materials or workmanship that causes the product to no longer function) for 3 years for the original owner.


All wood blinds are 100% American-built and assembled.
Style Choices
Besides colors, you have extra ways for customizing the look of your window blinds. Our slats come in 2-inch and 2 1/2-inch widths, so you are able to pick between a more standard feel or a slightly bigger, more modern feel. You even have the ability to incorporate rounded corners that afford your blinds a more refined appearance. Then choose between traditional corded ladders or twill tapes. In the end, you can add an ornamental valance to finish your blinds.
Ready To Learn More About Blinds For Your Indianapolis Home? Speak With The Window Treatment Professionals At Sunburst.
You won't find such outstanding window blinds somewhere else in Indianapolis, so commence your hunt for the perfect blinds with Sunburst Shutters Indianapolis. Call us at 317-558-9066 or complete the following form to arrange a free in-home consultation and learn more about our versatile window blinds and other window treatments.