What Are The Top Window Treatments For Over The Kitchen Sink In Indianapolis?
If the time has come to purchase window treatments, be sure to consider your kitchen -- especially over the sink. If you're worried about splatters of water and food disfiguring a window treatment over the kitchen sink in your Indianapolis home, make the smart choice with durable faux-wood shutters. They look spectacular in any space but stand up to the moisture and heat of the kitchen.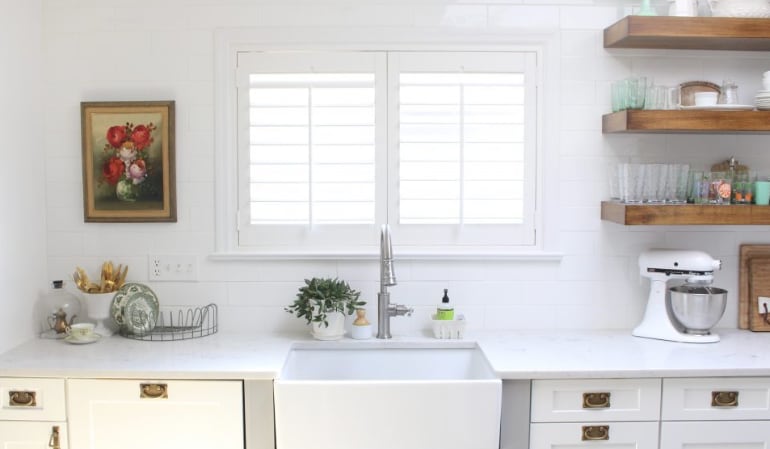 Dazzling Faux-Wood Shutters Bring Appeal To All Indianapolis Kitchens
Window treatments over your kitchen sink in Indianapolis should be simple and durable. But you don't need to forego beauty when you install trendy faux wood Polywood plantation shutters.
This sought-after product melds seamlessly with any design scheme. They come in in different hues of white that coordinate with finishes, and fixtures, and their solid panels of adjustable louvers offer a counterpoint to the the flat elements found in your kitchen. They bring understated elegance to both extravagant and simplistic kitchens and every one between.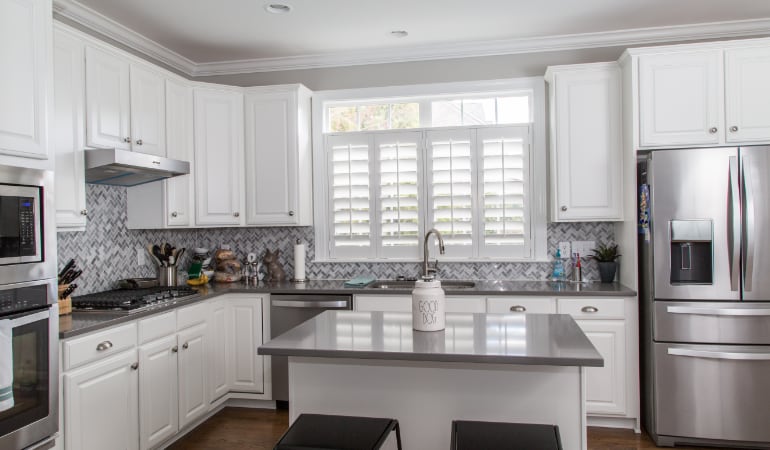 Polywood Shutters Resist Damage From Harsh Conditions
Do you ever see condensation along the window glass when you're trying to boil water or wash dishes? That excess liquid latches on to window treatments over your Indianapolis kitchen sink, where it can damage standard fabric products after a period of time.
You will find that interior shutters are a more durable option. The patented construction of Polywood and tough outer coat ward off the effects of moisture and heat. These popular window treatments are totally watertight. Polywood shutters will not be yellow, warp, or chip due to the levels of moisture in your kitchen.
Sunshine and weather extremes won't affect on the Polywood material. On the window in your kitchen, these products endure both cold drafts and intense UV rays. These long-lasting shutters won't shrink and expand from excessive interior heat or frigid outdoor temps, nor will they fade in sunlight.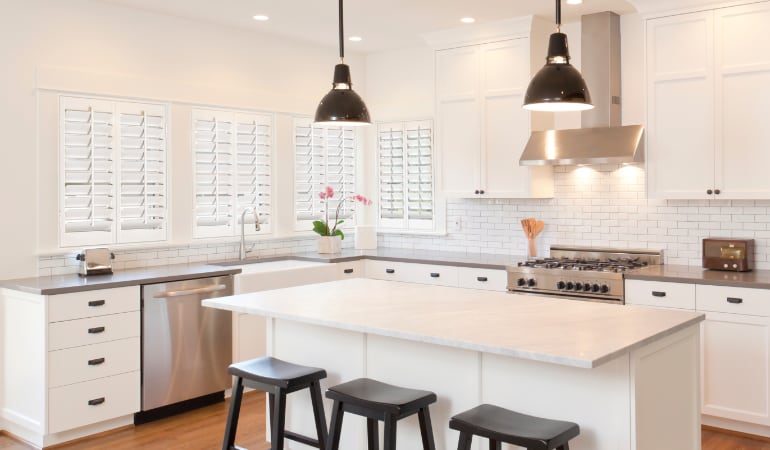 Polywood Plantation Shutters Allow the Perfect Amount of Natural Light
Good lighting is essential in your Indianapolis kitchen. You don't want to injure yourself because you can't see! These unique shutters provide the amount of light you want and are a cinch to adjust. Open the panels or effortlessly move the tilt rod to shift the louvers. You don't have to worry about twisted, hard-to-adjust cords or an inconvenient pull bar that is not easily accessible when you need to alter the light levels.
If you want full light, open the shutter panels completely. If you have too much sun, move the panels back in place and move the tilt bar to your desired light settings. Or use the louvers to redirect glare off of shiny surfaces in your kitchen. If you want to avoid curious observers seeing into your home after dark, shut the louvers tight for complete seclusion.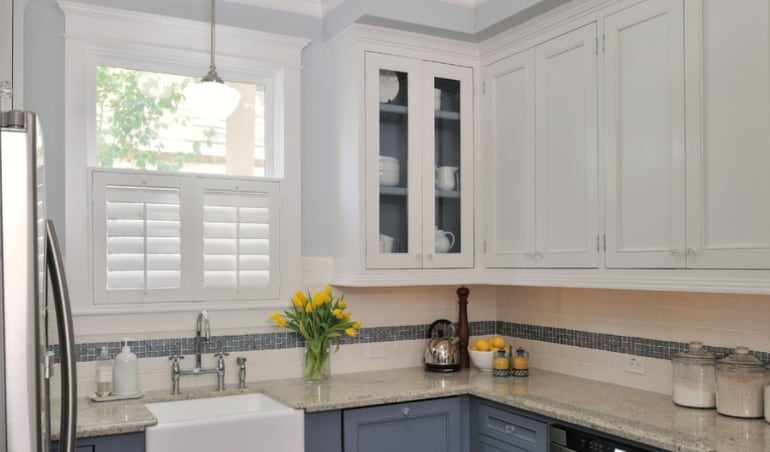 Faux Wood Shutters Make Cleaning Easy
It's common for kitchen surfaces to become covered in food particles and grease stains. Any window treatment over your Indianapolis kitchen sink must be easy to clean. This is one reason why Polywood window treatments are perfect on a kitchen window. The impenetrable material doesn't stain or hold odors as fabric shades do. A simple wipe with a damp cloth, and they're clean again.
You'll never have to spend too much time gently reaching your cleaning wipe between the louvers as you do with flimsy blinds. Shutter louvers are sturdy, and you can choose wide louvers for your custom shutters that create large openings for you to reach through with your cloth.
Get The Perfect Window Treatments For Over Your Kitchen Sink In Indianapolis At Sunburst Shutters Indianapolis
Sunburst Shutters Indianapolis provides the perfect solution for every window -- and that includes the windows in your kitchen. Confer with our specialists about what you envision for your windows, and we'll customize a plan for your home. Reach out to us at 317-558-9066 or complete our online form to request your no-obligation, on-site appointment.