The Best Nursery Window Treatment Ideas In Indianapolis
When you've got a child on the way in Indianapolis, you hope to have every aspect of your new baby's nursery perfect -- and that includes the window treatments. But in advance of selecting your window covering, keep in mind that safety and functionality are important. Newborns may yank down curtains or get caught in blind cords. These options won't block sunlight and drafts for optimal sleeping conditions either. Instead, use safe, energy-efficient plantation shutters or cellular shades as window treatments for your nursery in Indianapolis.
Plantation Shutters Keep Your Nursery Safe, Cozy, And Stylish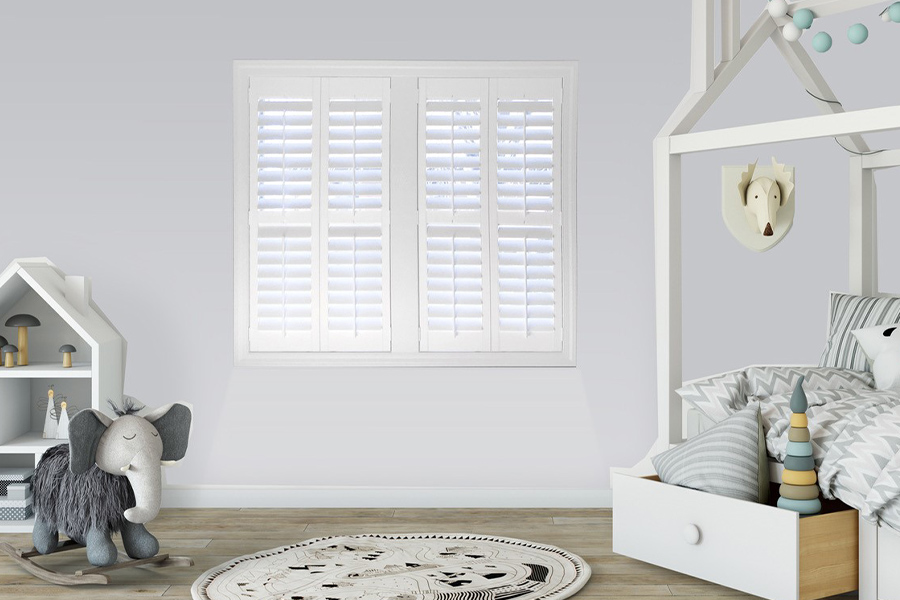 Interior shutters might not be at the top of your list of nursery window treatment ideas in Indianapolis, but they really are the best choice! These classic window treatments look amazing in any space. Their solid panels create an interesting accompaniment to the fluffier furnishings that come with a child's nursery. You might use
white faux wood Polywood® shutters
in rooms with vibrant or more delicate color choices. Stained hardwood shutters may be more suitable in the event your nursery has more natural components or you want to harmonize with the present wood trim. And whenever you modify the design as your baby grows, your shutters will still be appealing with the area's altered appearance.
Louvered shutters have a particular construction that makes them perfect for little ones' spaces. As an alternative to hanging drapes or cords for a baby or toddler to yank on or get tangled in, interior shutters have solid panels with movable louvers set in a frame that surrounds the window. They even wipe off effortlessly when they inevitably get smudges from small fingers.
Shutter panels and slats offer a few different options for managing sunlight and privacy in your child's space too. Pull back the panels for a sunny spot to play or secure them and turn the louvers out to allow a bit of outside light and angle it to the place where your child is playing. Then shut the panels and slats to keep out nearly all light for naps and bedtime.
Shut louvered shutters keep out cool breezes too. Air isn't able to get past solid wood and faux wood as it does through fabric window treatments. And exceptional Ovation® and Polywood shutters employ first-rate manufacturing techniques to minimize openings where air could slide through. Polywood shutters also feature exclusive weather sealing that causes them to be the most energy-smart nursery window treatments in Indianapolis and makes certain your nursery stays cozy for a peaceful slumber.
Cellular Shades Lend Efficiency and Versatility To Nursery Windows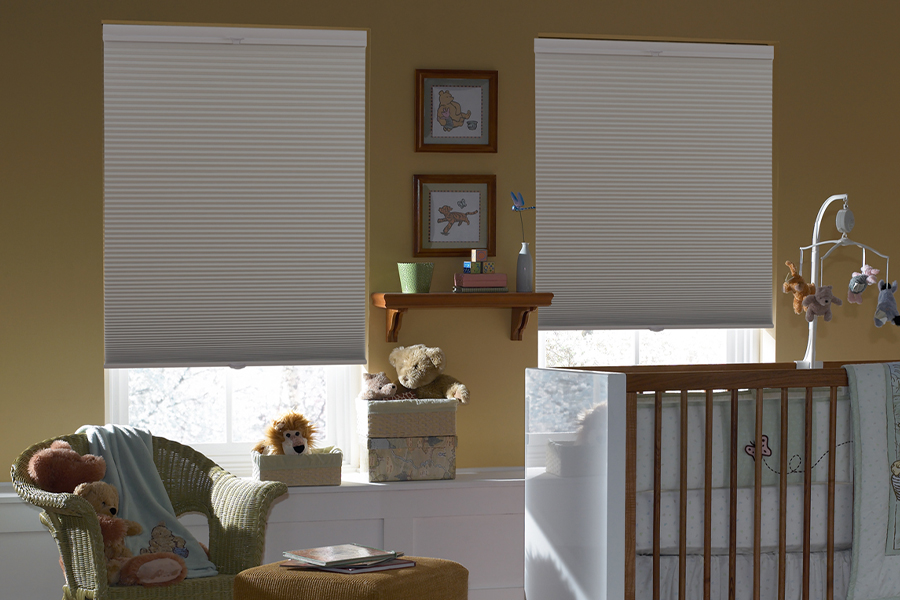 In the event you prefer a softer option for your nursery window treatments,
try cellular window shades.
These window coverings are offered in many different colors, patterns, and materials for you to pick from. You'll even discover other kinds like top-down/bottom-up shades that offer more flexibility with sunshine and privacy or non-corded shades that your little one can't get caught up in.
The leading advantage of cellular shades is their energy efficiency. Their composition consists of little pockets that catch air entering through your windows before it invades the nursery. They assist in keeping the the space at a comfortable temperature and energy expenses down.
Looking For Additional Nursery Window Treatment Ideas In Indianapolis? Turn To Sunburst
Whether you are looking for nursery window treatment ideas in Indianapolis or choices for a separate room of the house, Sunburst Shutters Indianapolis has your solution. We supply a variety of window coverings that make your residence more stylish and efficient. Reach out to 317-558-9066 or complete the following form to request a free on-site demonstration and find amazing window treatments in Indianapolis.