Indianapolis Bay Windows Deserve Stunning Window Treatments
Specialty window types are usually the most visually charming features of houses in Indianapolis - and one of the most eye-catching kinds of those specialty windows are bay windows. Whether from inside the home or outside, bay windows grant a feeling of comfort and fashion all at the same time - if they're partnered with the perfect window treatment.
But how does one know which window treatment to go with? Just like other specialty windows, bay windows have specific considerations to keep in mind. Sunburst Shutters Indianapolis will guide you through the checklist for bay window treatments, and show you the top picks for your Indianapolis bay windows.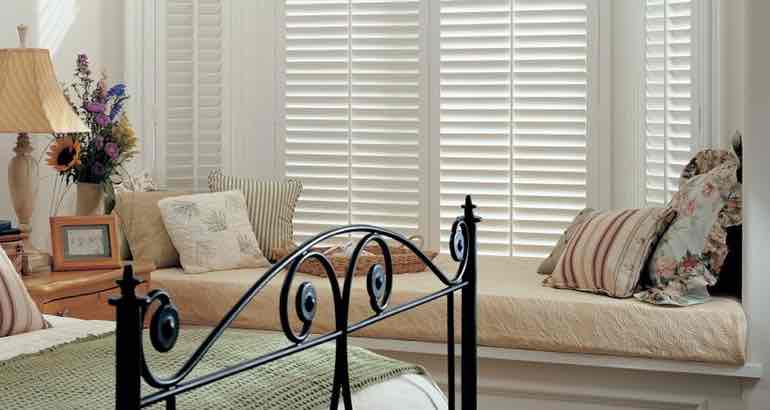 What To Look For In Treatments For Bay Windows
Accentuate your bay window - A poorly-chosen, generic window treatment can mask the aesthetic of a bay window. Choose instead a treatment that complements your bay window's distinctive geometry.

Control of temperature and light levels - Bay windows can let in a good amount of heat and light from the sun. Pick a window treatment that keeps your house comfortable and allows for climate control.

Visibility - Just as a window treatment needs to complement your bay window's geometry, it should also let you control how clearly you can see out your home, and how clearly people outside are able to see in.
The Worst Choices For Bay Window Treatments
Metal blinds - Blinds have a tendency to hurt the appeal of uniquely-shaped windows, resulting in them looking rather cheap or generic. They also don't deliver in controlling light levels as well as temperature.

Draperies - Similar to blinds, drapes bring down the charm of bay windows by obscure their unique shape, which is one of their primary appeals. Light control is also a zero sum game when you go with drapes.

No window treatment at all - A few homeowners believe they should keep a bay window uncovered. The single advantage of no window treatment is greater visibility, but doing so decreases your energy efficiency and light control, and will let people outside your window get an undeterred view inside your home at all times.
Recommendations For Indianapolis Bay Windows
Bay Window Cellular Shades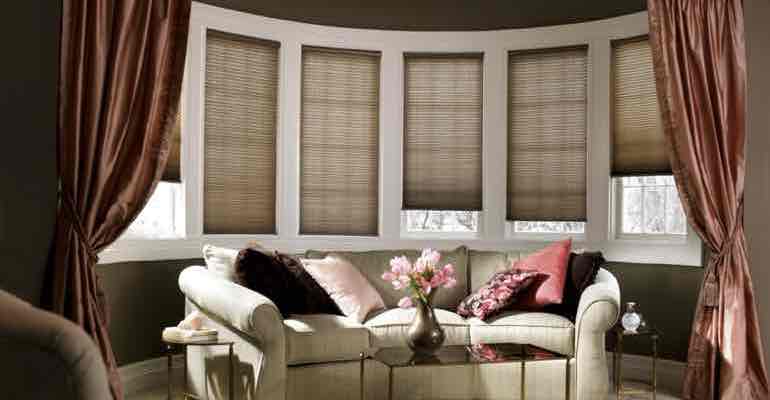 Fashionable, wallet-friendly, and simple to operate, cellular shades are perfectly suited to bay windows. The reason why they work so well on bay windows is the amount of freedom cellular shades offer you. These shades can be purchased in a range of cell sizes, all the way from 7/16 in. to 3/4 in. and come with a top-down/bottom-up system which lets you raise the shade from the bottom or lower it from the top, so you can get a great view while allowing for control of light levels.
Sunburst's cellular shades can be purchased in a wide range of opacities, from sheer to completely opaque, so losing your privacy is never a problem. In addition, unlike other shade types, cellular shades never bulk up at the top or at the side of your window when drawn, because they collapse so effectively. That means you're able to keep the elegant look of your bay windows even when the shades aren't being used.
Bay Window Plantation Shutters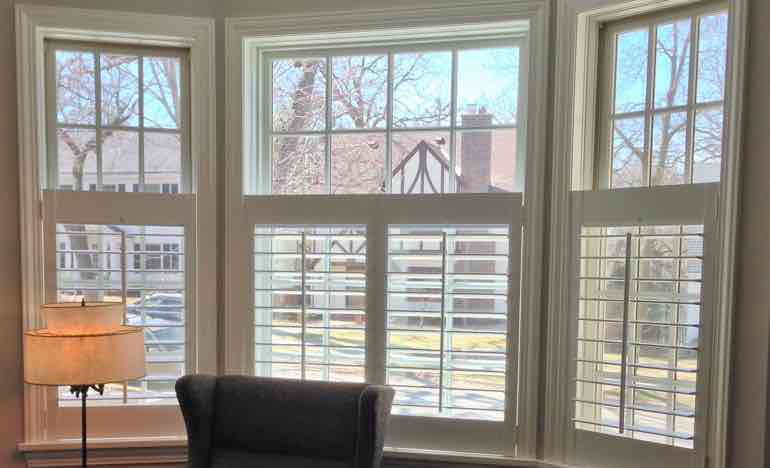 As with cellular shades, plantation shutters can give Indianapolis homeowners the opportunity to showcase their bay windows' geometry while enjoying the benefits of an effective window treatment. Plantation shutters surpass cellular shades however, by offering even better control of light and visibility with their moveable louvers. And since they're custom-fit to your windows, you can have even greater leeway in how you enhance their aesthetic with differing shutter lengths and configurations.
Because bay windows are usually some of the largest windows in your house, Polywood® plantation shutters' insulation is a big draw. Polywood shutters can stop up to 30° of air flow in your house if used correctly, which means that a cozy home is a quick tilt away.
For that classic wood plantation shutter look, Sunburst Ovation® shutters surpass all of the competition, as they are the only 5-star rated wood shutter currently available on the market. Ovation shutters , as an added bonus, can complement the wood border around your bay windows.
Let Your Bay Windows Shine, Indianapolis!
You might be keeping your house from looking its best if you aren't getting a great visual "pop" from your bay windows. Let Sunburst Shutters Indianapolis help your windows reach new heights with our professional expertise. Get in touch with the Sunburst Shutters Indianapolis team today by calling
317-558-9066
to set up your
free in-home
design
consultation
. We'll work around your schedule and have product samples brought right to your door!