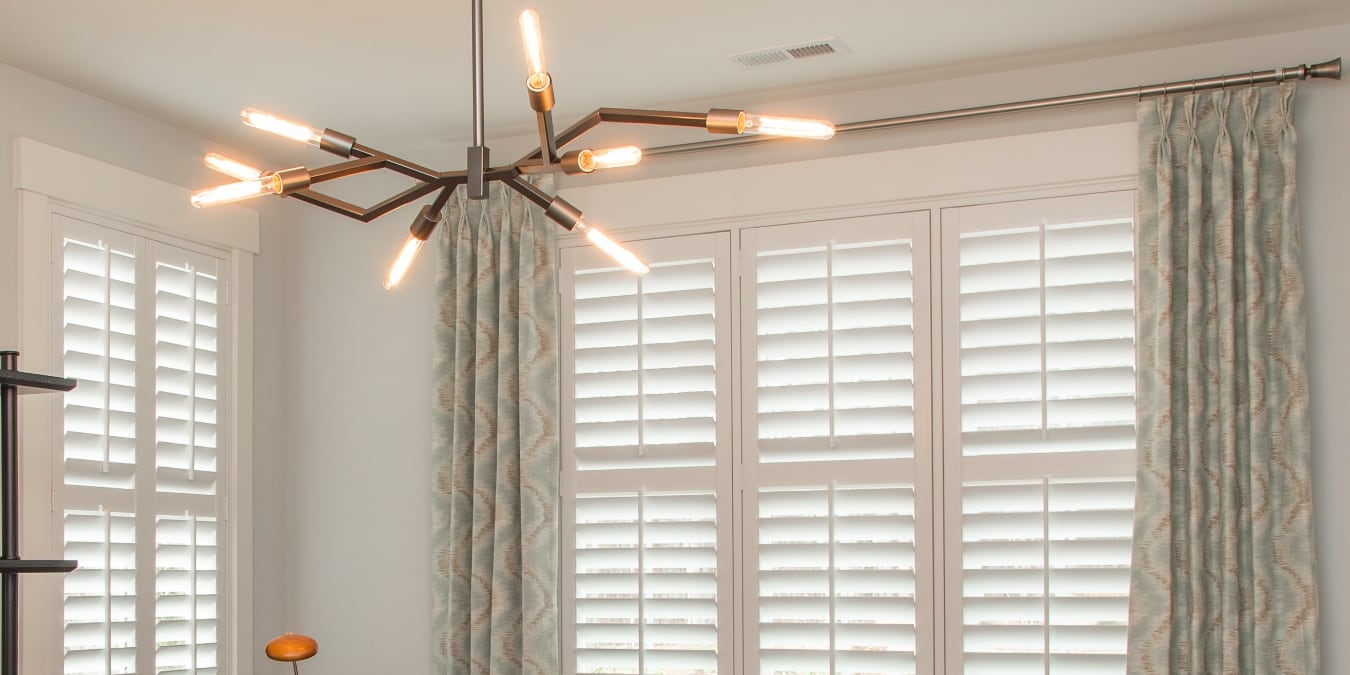 Home Office Window Treatments In Indianapolis That Work For You
If you are one of the many people working remotely during these unprecedented times, you probably need some guidance in upgrading your Indianapolis home office. Start with your window treatments. Looking to see a short comparison of the various home office window treatments?
Click the button to see our window treatments chart, for window treatments perfect for your home office.
Products like plantation shutters and motorized window shades are smart home office window treatments for Indianapolis residents who would like to keep comfortable and focused while working without compromising your home's unique design. These treatments are even capable of helping you look your best during teleconferencing! Read how you can use these window treatments to your advantage.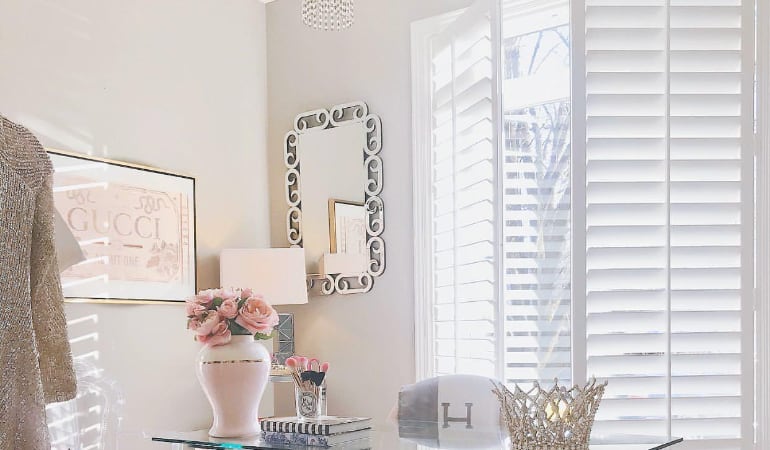 Plantation Shutters: A Top Choice In Home Office Window Treatments In Indianapolis
Remote work is often a challenge, so pick home office window treatments in Indianapolis that will make the workday more pleasant. Plantation shutters' unique design makes them a winning option when you want to adjust your workspace's lighting and comfort levels.
One of the perks of working from home is that you get to control the temperature. But keep in mind, you don't want to increase your energy expenses by using your furnace or AC all day long. Polywood shutters with insulating qualities can help. When it's hot and sunny, close your Polywood shutters to maintain a cooler home office and keep the glare off your monitors. During colder months, that same insulation keeps drafts at bay.
Ready to lower your electric costs or hate sitting in a dim office? Adjust the louvers on your plantation shutters for natural light that you can redirect from your monitor and into other parts of your room. Shut them again to limit distractions such delivery trucks or the neighbor's dog. Or shut your shutters for privacy at night if you need to work late.
If you want a little more appeal in your home office, the fine edges of interior shutters create a dazzling design component that gives a boost to even the most basic of windows. They come in a wide array of adaptable colors, too. Whether you choose fashionable white Polywood shutters or a warm and welcoming hardwood shutter, your new home office window treatments will make you happy to be working remotely!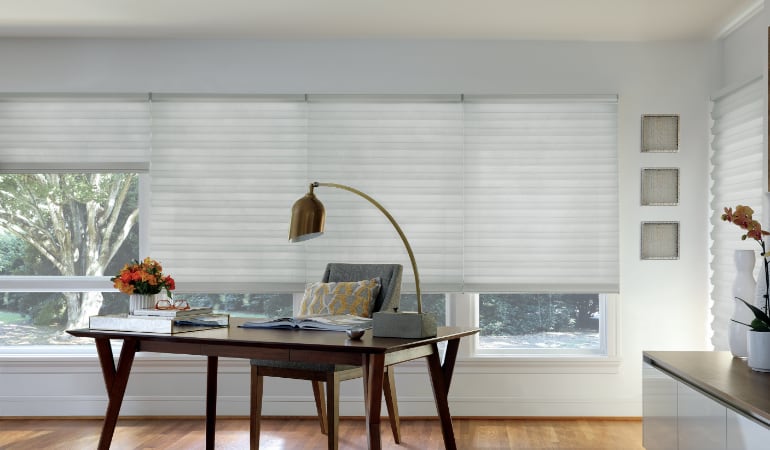 Motorized Window Shades Provide Variety And Convenience for Indianapolis Business People
Like Polywood shutters, many styles of shades provide coverage and insulation for your work space. Blackout roller shades block distracting glare. Energy-efficient cellular shades ward off those cold drafts and hold in warm air. Transitional shades allow you to pick between light through a gentle filter or complete dark.
Window shades also come a range of materials and colors to fit your individual preferences and fulfill your dream of an ideal home office. You might like something stylish like Roman shades that look great behind you during video conferences or a simple and functional product like roller shades to eliminate outside disturbances.
When you figure out the style of window shade you plan to buy, explore the motorized version to bring even more convenience to your work area. Motorized window shades operate with a remote control instead of manually. This offers more flexibility for managing the light in your home office.
When the sun moves and a glare interrupts your attention, you can close your shades with the press of a button without leaving your desk. If sunlight is washing you out on a remote meeting, or you find your work space looks too dark on your monitor, you can close or open your motorized shades from your desk without disrupting meetings. Your boss and colleagues will be amazed by your professional workspace when you improve your home office window treatments in Indianapolis.
Are You Still Trying To Figure out What Window Treatments You Should Get For Your Home Office? We've Compiled This Chart To Help You Consider All Of The Options.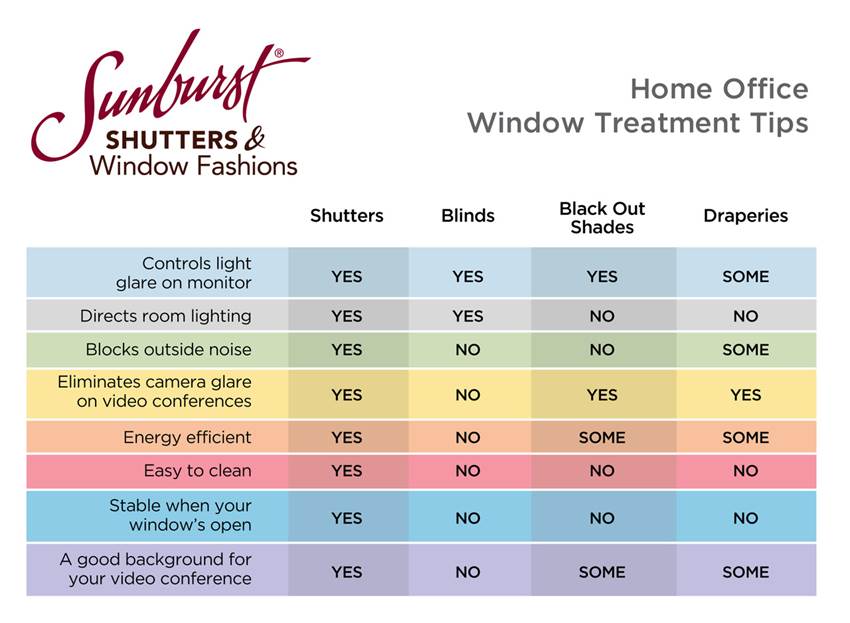 Elevate Your Indianapolis Home Office with Window Treatments From Sunburst Shutters
You'll work better when your window treatments limit distractions while keeping you comfortable. Turn to the window treatment experts at Sunburst to select the best options for your home office. To schedule a complimentary in-home consultation, dial 317-558-9066 or complete the form on this page.