Five Ways To Create The Perfect Media Room In Indianapolis
The latest audio and video equipment makes it easier than ever before to enjoy movies, gaming, and television as you kick back in your own media room. This is the reason why Indianapolis families continue to create home media rooms. But what is required to design an amazing home media room? From ideal window treatments to equipment, here are five ideas for creating a media room in Indianapolis that all family members will enjoy.
#1 Manage Sunglare With Interior Shutters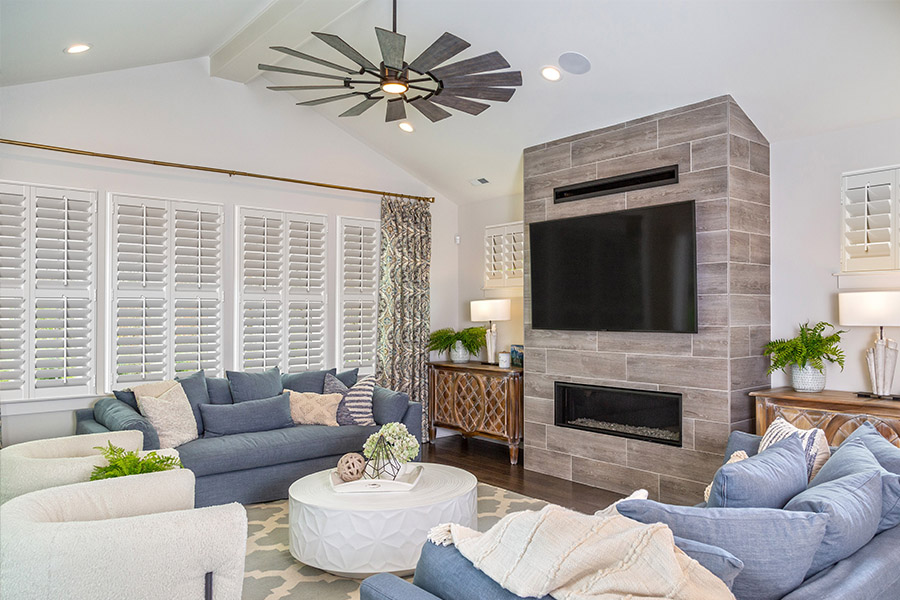 Few things can spoil a movie like glare on the television. Dimmable lights help, but what do you do for outside light? Install
interior shutters as window treatments
in your media room in Indianapolis for the best light management. Interior shutters feature a frame that surrounds your window's frame to keep out exterior light. These durable products also incorporate panels on hinges with moveable slats that shut tightly to provide almost total blackout. You might even tilt the slats to a different angle to move light off televisions or your face without making your space seem like a black hole.
In the event you select Polywood® shutters, you'll achieve better insulating ability as well. These synthetic shutters halt heat from the sun and drafts to allow your media room to maintain a comfortable temp. They may prohibit as much as 30 degrees of heat transference, saving you money on utility costs.
#2 Enhance Your Media Room's Acoustics With Some Doable Renovations
Once you address the lighting in your Indianapolis media room, switch to the acoustic environment. Drywall is sufficient for your media room's walls, but the concrete in your basement ruins the clarity of sound. The simplest method to control echoes in your basement media room is by installing acoustic panels. In the event you have to soundproof your media room, look for easy-to-install sound barrier or absorption solutions. You can then proceed with window treatments, like shutters, to control exterior noise.
#3 Select The Proper Devices
The appropriate equipment will deliver superior acoustics too. Begin with a surround sound system. Numerous people like devices with Wi-Fi capability since there's no need to trouble yourself with hiding wires.
You also need a fantastic TV. LED and LCD screens offer excellent brightness, but 4k units typically have greater contrast and wider viewing angles. You could also go with a projector-style setup for that larger-than-life display in your media room. No matter what TV you choose, mount it high on the wall for the best viewing angle.
#4 Choose Cozy Seating Options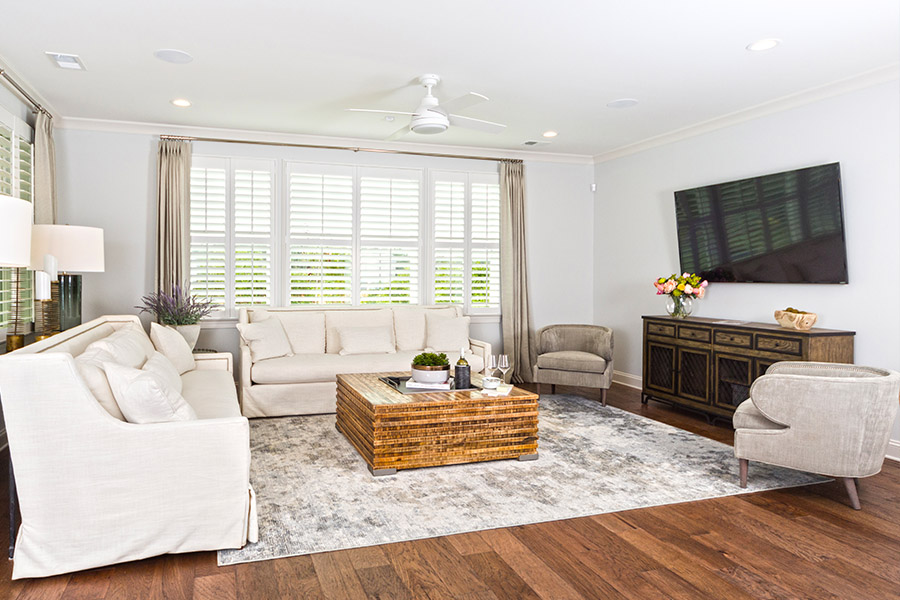 You can't enjoy the big game without a comfortable place to sit. If your goal is a complete home theater, try to find specialized chairs with reclining functionality and cup holders for your drinks. If video games are your jam, invest in a few gamer chairs. A large, comfy sectional is a smart choice as well. While you're at it, add some plush throw blankets and cushy pillows to get ready for those binge watching nights.
#5 Redecorate With The Theme of Your Choice
Design however you want when creating a media room in Indianapolis. Do you associate with a specific movie franchise? Would you like to give the impression that you're inside an actual theater? Oversized movie posters, a classic popcorn machine, and vibrant colors should underscore your media room's purpose.
If you want a more toned down appearance, focus on your preferred color combination. Warm colors with real wood accents and coordinating Ovation® shutters will have your media room feeling snug. You might also make it open and inviting with more neutral colors and Polywood shutters.
Consult With Sunburst About Window Treatments For Your Media Room In Indianapolis
The specialists at Sunburst Shutters Indianapolis are here to help you select the best window treatments for your media room. At your free on-site consultation, we reveal how different solutions look in your home before making your final selection. Request yours today by calling 317-558-9066 or by filling out the form below.