8 Uses for Reclaimed Wood in Your Indianapolis Home
Indianapolis people love reclaimed wood and the décor statement it makes. It's emerged as a new way to upcycle weathered wood and gloriously unleash your one-of-a-kind style. Reclaimed wood products are genuine eye-catchers whether it's part of a wall, your cabinets, or – imagine it! – your windows. Think you could use some suggestions on using reclaimed wood? We've gathered 8 superb ideas for you – all applied to marvelous effect in Indianapolis homes.
1.Use Reclaimed Wood on Your Windows
Believe it! This is a first: reclaimed wood – that décor alternative you've long hoped to showcase in your home – is now, at long last, available to you in an exciting window treatment. Sunburst Shutters now offers a plantation shutter made from the best possible reclaimed wood. Actually, Sunburst is the lone company offering you reclaimed wood shutters in the Indianapolis area. We found the reclaimed wood you like and used it to create a louvered shutter that's incredibly beautiful and remarkably functional at the same time.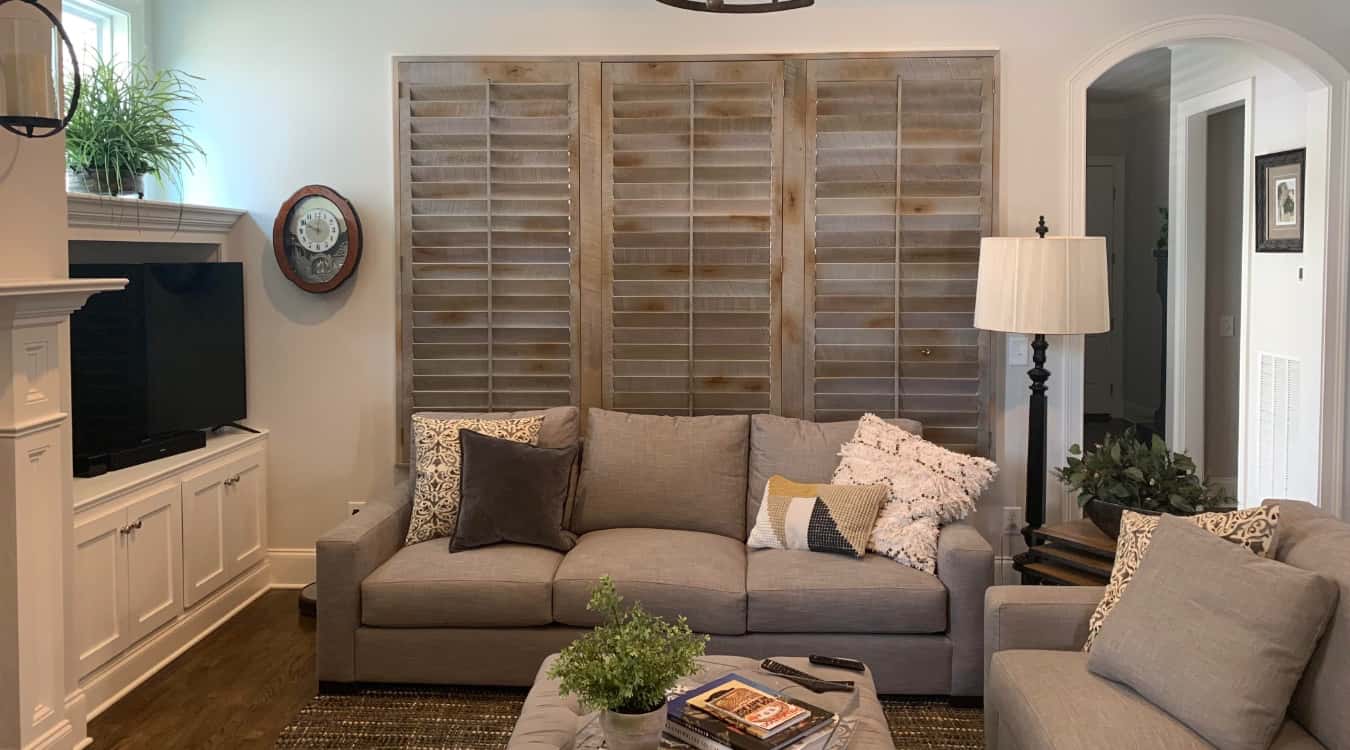 Reclaimed wood can be a window treatment like no other. It helps, of course, when your reclaimed wood shutters are themselves masterpieces. And Sunburst makes sure they are. You'll see that their smooth, simple operation is as beautiful as their look. Tilt the louvers open to let more light in. And tilt them closed to bring out the weathered look of reclaimed wood on your window. Don't just take our word for it, though. There's so much more to discover about reclaimed wood for windows in Indianapolis. See what's out there!
2. Reclaimed Wood and Walls
If it's the casual, rustic look of the outdoors you want in your home, reclaimed wood has more of it to offer than just about any other wood option. Reclaimed wood paneling makes your wall distinctive and lends a casually convivial atmosphere to the room. Whether you have a bookcase, fireplace, artwork, or TV to accentuate, a reclaimed wood wall will look stunning behind it and create just the effect you're after.
3. Reclaimed Wood and Floors
Looking to redo a floor in your house? All kinds of wood flooring can lend warmth to a room, but flooring of reclaimed wood has a unique beauty borne of the time – generally decades – the wood has been left outside to endure the effects of nature. Regardless of whether you're partial to being outside in nature or merely one who likes the appearance of weathered wood, you'll fall head over heels in love with what a reclaimed wood floor can do to take your home to a whole new level.
4. Reclaimed Wood and Cabinets
What better reason could present itself to enhance the look of your kitchen cabinets now that top-quality reclaimed wood is so well within your grasp? It's the natural way to dress up your whole kitchen. Every panel of reclaimed wood tells a fascinating story – of considerable time hidden away in an old building, for example, or in the crumbling structure of a barn or fence. And a trace of that story will remain in your reclaimed wood cabinets, called forth whenever you're around them.
5. Reclaimed Wood and Tables
A tabletop fashioned out of reclaimed wood can add a ultra-current, emphatically fresh look to your dining room or home office. Marry the reclaimed wood's natural tones and textures with your décor scheme to achieve a consistent, agreeable look that fulfills your expectations – as it blows your guests away!
6. Reclaimed Wood and Bookcases
Apart from the value we assign them otherwise, books make great decorative pieces. Arrange a book or group of books on a coffee table or end table, on a bookshelf, or in a big bookcase, and they're sure to draw the eye. Their pleasant variety is both differentiated and harmonized in bookcases of real wood, too. And bookcases of reclaimed wood, with their natural colors, knots, holes, scratches, and other telling features, provide a singularly distinctive, one-of-a-kind showcase.
7. Picture Frames of Reclaimed Wood
The muted, natural look of reclaimed wood is just so appropriate for picture frames. Use it to showcase your favorite artwork and most cherished photos in a most eye-catching manner. It's worth noting, too, that frames of reclaimed wood can be crafted in a multitude of styles, thus they'll harmonize with just about any décor scheme.
8. Reclaimed Wood and Headboards
There's little that can upgrade the appearance of a bedroom like a cleverly designed and constructed headboard. Nowadays, when renovating, homeowners are just as likely to attach a headboard to the wall behind their bed as they are to fasten one directly to the bed itself. However you prefer it, a headboard consisting of reclaimed wood planking can be extraordinarily beautiful. It's natural tones and effects of weathering make it well suited to a diverse number of styles, from antique to modern. With reclaimed wood, you'll discover there aren't any limits on your imagination to get in the way of you designing the headboard that dreams are made of!
Reclaim Your Creativity with Reclaimed Wood
We hope we've inspired you with these 8 ideas for getting the most out of reclaimed wood. Of course, we have lots of other ideas as well – ideas that beautifully complement the reclaimed wood shutters only we provide in Indianapolis. Our experts would be delighted to show you samples of our shutters, answer your questions, and help you explore additional design ideas. Contact us at 317-558-9066 to schedule your free in-home design consultation today!